Blog Post 11/21/18
As Thanksgiving week begins the un-official "Fireplace Season", we are re-posting some helpful tips on Fireplaces.
Fireplace and chimney maintenance
It is not unusual to find cracks in a fireplace or chimney that has seen some good hot fires. The cause of the cracks is thermal expansion and then contraction of the masonry materials. Fires like this would be dangerous in most types of fireplaces but in a masonry Rumford fireplace it will be safe to build fires like this for many years.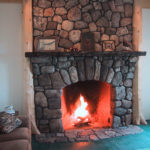 We know from years of testing and field experience that masonry fireplaces can safely withstand the most extreme thermal conditions that can be created by homeowners over and over again. When a hot fire is built in a Rumford fireplace, as we expect to happen, the thermal expansion of the masonry may cause cracks in any of the units, brick, mortar joints, block, stone, etc. The throat functions as a formed lining in the top of the firebox. Its' purpose is to facilitate a smooth, laminar flow of air and smoke up the chimney and to protect the other structural and decorative elements of the fireplace and chimney structure much as the flue liners protect the walls of the chimney. Even with the thermal cracks that are evident in the photos the throat will continue to perform safely. Rumfords are unique in having this extra liner in the throat of the fireplace. Other fireplaces do not have any lining in this area.
We have had good success with Heat Stop or Insul Stick used to patch the cracks or to parge the entire throat. At some point there will probably be similar cracks in the mortar joints of the firebrick that may need to be patched. This type of maintenance is normal in fireplaces that are used for hotter fires. In the event that a piece of the throat were to fall out the fireplace is still safe to operate and it can be repaired using the same materials.
Blog Post 10/2/18
Refractory Mortar vs. Fireclay
View .PDF below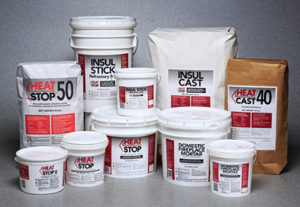 In recent years we have seen vast changes regarding building code requirements for mortar used on firebrick (fireplace) and clay flue liner (chimney) installations. Jobsite prepared mortars that may have included fireclay and Portland cement no longer meet code. Factory prepared refractory mortar is now the accepted standard. Refractory mortars have become easier to use, safer, are more readily available, and meet all of the local and national building codes.
Liability
Homespun formulations can become liability issues because fireclay mixes break down and lose strength as they pass through temperature ranges of 600-800 degrees. They simply don't take the heat like refractory mortars do, nor do they have the strength or acid resistance.
Legal Responsibility
The International Code Council (ICC), the International Residential Code (IRC) and the National Fire Protection Association (NFPA-211) now all require refractory mortar tested to American Society for Testing Materials, ASTM C-199, medium duty.
Pre-Mix vs. Dry Mix
There are basically two kinds of refractory mortar conforming to ASTMC-199 and permitted by code. Non-water soluble refractory mortar (sometimes called hydraulic setting) is a dry blend, requiring only cold water to be added, usually ships in a bag, and sets up or cures much like a regular mortar mix. The second type is a premixed version and it comes in a pail and is about the consistency of drywall compound. It usually requires no additives, and with a little mixing is ready to use.
Non-water soluble refractory mortar is the only refractory mortar that should be used in outdoor applications. Premixed refractory mortars may wash out even after drying. Due to the previously mentioned characteristics, non-water soluble product is also the preferred choice for clay flue installations that may vent gas or oil appliances or in any other instance where moisture may be present within the clay flue. This is our overall refractory mortar of choice. It is used four to one vs. other types of refractory mortar in residential construction.
-END-
____
Recent Projects
Terra Cotta Chair Summer 2015
Custom Terra Cotta Chair, designed by Eric Haskins, AIA, Architect.  Beautiful natural Terra Cotta design creates a unique piece of furniture that is durable, weather resistant and one-of-a-kind!
____
Wrigley Field Wall Coping –Spring/Summer 2015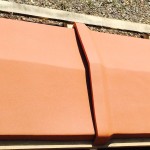 Superior Clay continues to produce the highest quality, custom Architectural Terra Cotta.  One of our ongoing projects for the summer of 2015 is a classic Wall Coping Tile as part of a beautiful restoration of Wrigley Field, in Chicago Illinois.  The coping is two custom sizes of the traditional "Double Slant" style wall coping.  Over 1,200 liner feet of Superior Clay Coping will soon adorn the walls of Chicago's most treasured structure.
____
Beautiful Custom Chimney Pot –2015
Another Custom Chimney Pot for one of our customers.  This beautiful pot was originally made in NJ, according to the stamp inside the pot.  We were asked to duplicate one of them for a renovation.  You can see the results below, we added our own twist.
____
Mobile Oven/Pre-Fab -Spring 2015
This 36″ Oven was designed for local partners to use at our very popular Tuscarawas Valley Farmers Market. These ovens are available for purchase as a mobile unit, as pictured, or, as a turn-key, set in place finished product for your back yard or patio.  The oven is fully insulated and ready to use, this particular model was done in a Rustic design. Custom options are available to suite your taste.  Learn more at our Wood Fired Ovens Page